Prototype of Model Twenty One Stage Monitor
The music industry has used the same technology, a direct radiator loudspeaker for 70 years. It is time for some innovation: Above and to the left is our Model Twenty Guitar Speaker cab, shown on the right above is a prototype of the first flat panel stage monitor, These both represent the first green technology loudspeakers. The stage monitor is only 2.75 inches thick and weighs 19 pounds.
The Model Twenty One stage monitor is powered and designed to operate from 150Hz to 20khz. Voice, guitar, kick drum, and keyboards are clean and clear. It takes up one fourth the space and weights half as much as conventional monitors
The Model Twenty One Stage Monitor

The First Green Tech Loudspeaker
The diaphragm area of the Model Twenty One is similar to 12 inch speaker and it operates full range. It is about 1/4 the volume of a traditional floor monitor
Since transport cost to move guitar, bass, and PA speakers consume more energy than the electricity at a gig, adoption of this technology will significantly reduce the carbon footprint in the performance side of music industry.
As we develop fun new products around this technology, the stage monitor, bass guitar, and PA system, are planned, your bands stage presence will look impressive with a substantial weight and transport cost savings.
Back View of the Model Twenty One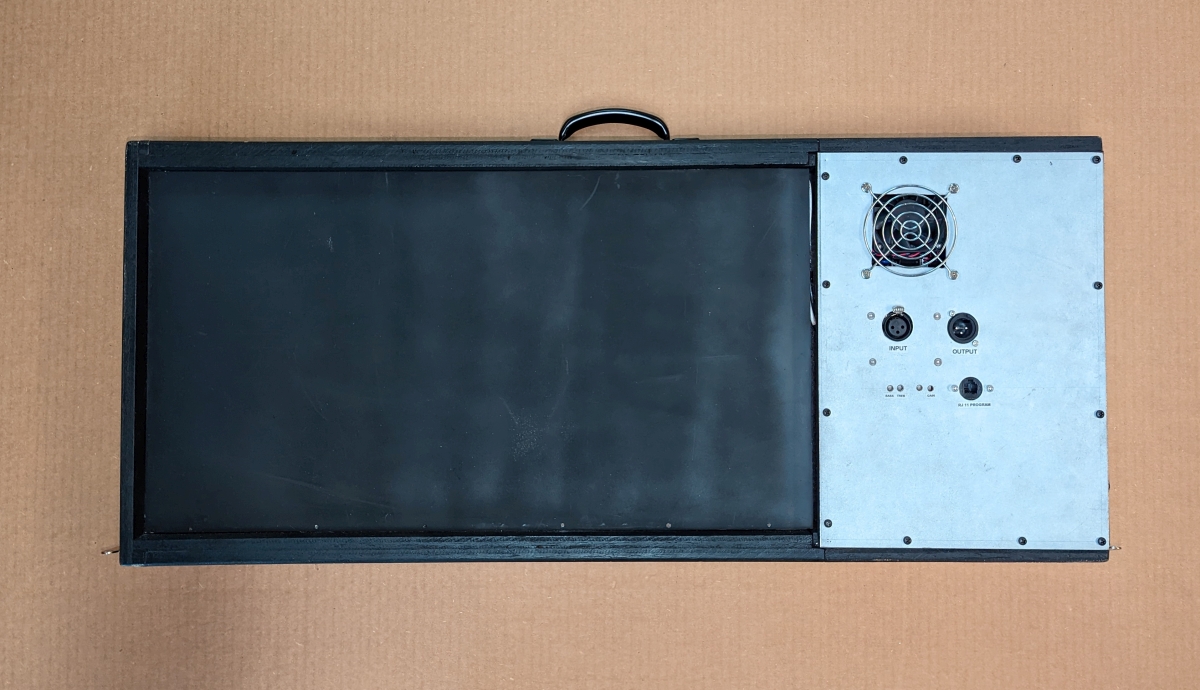 Below is the view of the stage monitor operating and adjacent to a traditional stage monitor
The compact form factor allows a 4:1 reduction is space required.
Prototype Specifications: Weight 19 pounds, Length 31.5 inches, Width 13.6 inches Depth 2.75 inches input/pass through: XLR. Amplifier Power 350 watts, Internal DSP and EQ
New Atlas
The New Atlas Online Web Site was kind enough to write a news article about the Model Twenty
Here is the Link
Guitar World Magazine
Guitar World Magazine and Online Web Site was kind enough to write a news article about the Model Twenty
This is the Link
Eminent Technology
Eminent Technology has been in business 40 years designing and manufacturing audio products in Tallahassee Florida
How to Purchase
You can purchase directly from us with a personal check or Paypal. For purchase inquiries or more information contact: infoATeminent-tech.com replacing AT with the @ sign
Manual and More Links